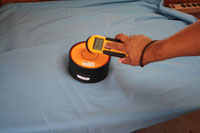 Magnetic susceptibility is probably the most easily measurable petrophysical parameter. It can be measured not only in the laboratory on rock specimens, but also in the field on rock outcrops. The TerraPlus KT series are convenient because they are light and of pocket size (useful in geological mapping), very sensitive (1 x 10-6
[SI] in the KT-10 model), measure the susceptibility very rapidly (one measurement takes a few seconds), contain memory for storing large amounts of measured data (up to 3000 measurements) *, 
and possess blue tooth connectivity (for combining susceptibility data with GPS measurements) and USB connectivity (for transferring the measured data into computer).
While the primary use of magnetic susceptibility measurements may be in exploring for metallic ore bodies, it is also be used in other applications: geological mapping , verification of magnetic anomalies, environmental surveys, heavy mineral pollution in soils, and others. For information about applications please click here.  For details about the KT-10 click on this link: KT-10 brochure (PDF)