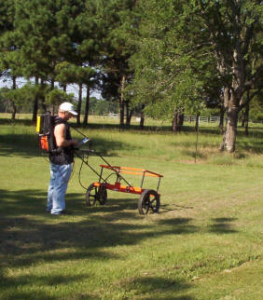 K.D. Jones Instrument Corporation is a small business that rents geophysical equipment for a wide variety of engineering and geological applications. Our personnel have the geologic, electronic, and field experience to help you choose the right instruments for the job and to guide you through the operation of the instrument if you are unfamiliar with it.
Our Locations
Administration
Post office address:
K. D. Jones Instruments Corp
PO Box 339
Mequon, WI 53092
As of August 1, 2018 the final phase of moving K. D. Jones Instrument Corp to Wisconsin has been completed. Please note that the Normangee, Texas is now close. We elected to office in a rural setting for a couple of reasons:
It's a great place to live.
But more importantly Mequon, WI now provides us with the space to test and demonstrate equipment and train customers to operate our equipment under real field conditions. We can lay out long spreads of electrodes or geophones, or use any seismic energy source without bring down the wrath of neighbors or government officials.
Administration, Shipping, and Receiving
All equipment is shipped and received through our Wisconsin office:
ship to:
K. D. Jones Instruments Corp
13129 N. Green Bay Rd.
Mequon, WI 53097